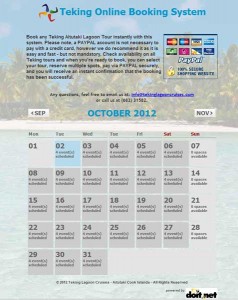 The online booking system has had a little makeover!  Same great functionality, but with a little new feel!
Book any of the Teking Tours 24 hours a day, 7 days a week, from anywhere in the world.  It's fast, secure, and always open to serve you!
Check availability on any of the 4 tours and private charters.  Reserve your spot and receive an instant confirmation that your seats are reserved.  Don't wait until you get to Aitutaki, space is always limited so we recommend you book well in advance.  Teking is very flexible and can reschedule you should bad weather make the tour unavailable on the day you selected.